Chris Vaughan – aka "AstroGeoGuy" – is an award-winning astronomer with a talent for explaining the cosmos to anyone – during his dynamic and fascinating presentations, or touring guests out under the stars. A professional Geophysicist and Astronomer (graduate of University of Toronto, 1982), his passion for education and public outreach won him the 2014 Bertram Topham Award for Observing and the 2013 and 2014 Andrew Elvins Awards for Promotion of Astronomy from the Royal Astronomical Society of Canada Toronto Centre. He is the author of a weekly astronomy news bulletin for non-astronomers, called Astronomy Skylights, which is received by subscribers worldwide. Since 1996, Chris has been visiting classrooms, hosting science-themed assemblies, running science clubs, and holding Star Parties for schools and private groups around the GTA. Chris has been an operator of the David Dunlap Observatory's 74″ (1.88 m) Great Telescope, co-creator and regular presenter in their Skylab planetarium, and a speaker at their public programs. He is also a regular presenter of The Sky This Month at the monthly Recreational Astronomy Night meetings of the RASC Toronto Centre, and a member of the team at the club's Carr Astronomical Observatory near Thornbury. He writes a column about Mobile Apps for astronomy for Space.com A Mineral Exploration Geophysicist since 1980, Chris has given classroom presentations on geology, rocks and minerals, mining, and archaeological age-dating. He has served two terms as president of the Canadian Exploration Geophysical Society (KEGS). An astronomy enthusiast since childhood, and a lifelong learner, Chris has been learning to speak, read, and write Mandarin.
Mobile Science Planetarium and immersive Theater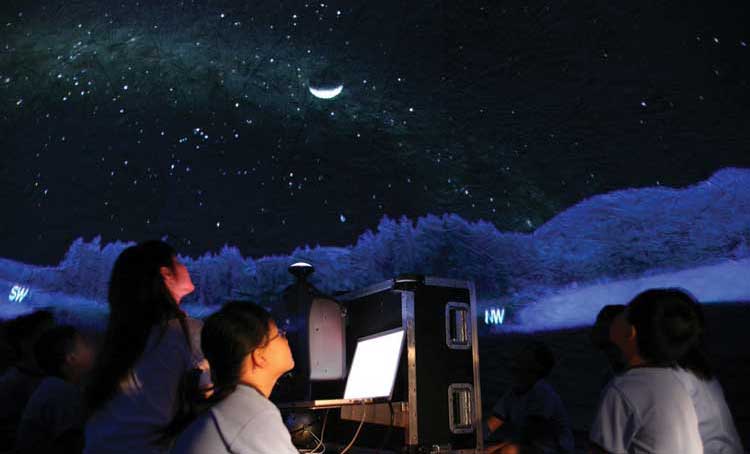 We come to you……  Book it for a fun event, reception, conference or even for your family
Experience the magic of our state of the art, Digital Planetarium
Presentations can be custom-tailored to your needs.
A unique and innovative way to bring Earth and space science into your space.
Incredible 360 degree experience unlike any you have ever had.Astronomy and Space Experiences:
Build a Human Scaled Solar System – attendees each play a planet or moon and learn some amazing solar system information
Daytime Sun Viewing Session – safely view the Sun with specialized equipment as you've never seen it before, and learn some fascinating science about our nearest star
Evening Stargazing Session – a guided tour of the night sky and viewing of a variety of interesting objects – planets, fanciful clusters, spectacular stellar corpses, and galaxies
Special Event Programming:
The spectacular Geminid Meteor Shower runs from December 4 to 16 this year, peaking in intensity on December 12. Astronomer Chris Vaughan is available to explain what causes these marvelous shooting stars and how to see them for yourself.
Recent engagements:
Canadian Federation of University Women – Newmarket Branch
Vaughan Resource Library – Solar Eclipse Orientation Session and Solar Viewing
Thornbury Library – Astronomy – The Art (and sky tour)
Excursions:
Join astronomer Chris Vaughan for an evening guided tour inside the domes of the historic York University Observatory near Keele and Steeles in Toronto. See the telescopes, hear about the latest news and research and, if the skies are clear, view some fascinating objects. After the tour, we'll retire to a local establishment for drinks, food, and casual astronomy talk with Chris.
Book astronomer Chris Vaughan for a night under the stars at your location. He'll teach you how to find the North Star, share some myths and stories about the constellations, and explain how the sky's motions produce our seasons, clocks, and calendars. You'll gaze through state-of-the-art telescopes at planets such as Saturn, colourful double stars, spectacular and whimsical star clusters, and even you a galaxy or two. An unforgettable experience for all ages.
Keynote
Keynote Astronomy-themed Presentations
"An Earth Scientist's Guide to the Solar System" (How geophysics and remote sensing techniques developed for Earth-based exploration are used to explore the Moon and other planets)
"Astronomy – The Art" (a pictorial tour from our backyard skies to the edge of the Universe and back, and the science behind the imagery)
"Worlds to Discover" (a tour through the icy realms of the outer solar system, including the realm of Pluto and the potential Planet Nine)
"Exoplanets" (how we explore for extra-solar worlds and whether they may harbour life)
"The Sky This Month" (A Tour of the Night Sky and a preview of sights to see in the sky – Indoors!)
 Other topics available (more added frequently):
General Astronomy
Space exploration
Alien biology – what would life on other planets be like?
The life and death of our Sun, Jupiter, Pluto and the Icy Outer Solar System
Stump the Astronomer – Ask what you've always wanted to know!
Request a Call Back
Whether you're looking for coaching, workshops, or keynote speaking, we can help! Get started by leaving your contact information below.