Elaine's "Power of the Pen" talk is perfect as a Team Building activity—guaranteed to have everyone laughing and learning how to communicate more effectively with fellow team members and clients through knowing what the strokes of Handwriting mean.   Elaine's talk is positive and fun:  Having received Handwriting Samples from your Team before the talk, Elaine will bring one-page Handwriting Profiles and make one or two positive, strength-related comments about each Team member at the end of the talk.
Featured on Breakfast Television!
1001, 1002, 1003, 1004: That's how many seconds you have to catch the eye of a new client at the Trade Show.  Inviting Elaine to do 5-minute Analyses at your Trade Show Booth is a brilliant Marketing strategy that will have delegates stop, interact with those in the booth and thereby generate valuable leads.  All Potential Clients and Potential Buyers receive a personalized Handwriting Analysis on your letterhead, writing a customized sentence geared to your products, services or mission statement.  which they will keep and think of you every time they see it.  Elaine's presence will generate buzz about you through the Show—she can help you communicate your message by creating a relaxed and fun atmosphere and a welcome break from the information overload at the Show.  As an added bonus, Elaine's "Power of the Pen" talk is perfect for those Trade Shows where there is a centre stage and will generate even more traffic and leads for you.
…my presence at your booth can extend that time to over ten minutes—valuable time to generate leads with potential new buyers.
Invite Elaine to Entertain at Your Next Trade Show!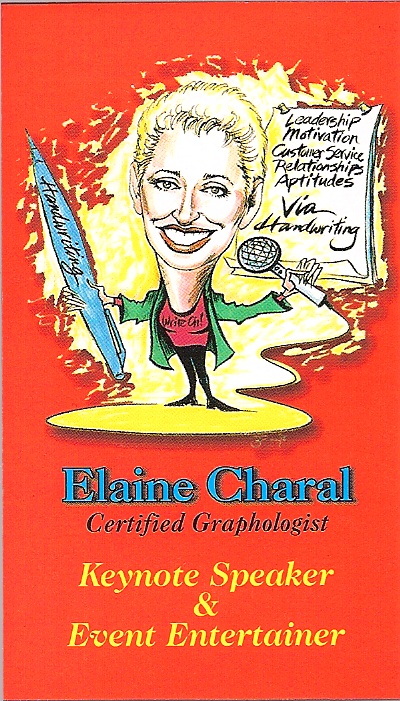 Workshops
My Handwriting Workshop has as the first part my "Power of the Pen" talk.  The next portion of the Workshop has a Handout covering all the different types of t-bars, communication strokes, imagination strokes, stroke combinations, t- and d-stems, and thinking styles seen in m's and n's.  I would then take everyone's writing in the class and, with their permission, give a few positive comments on the strengths evident in their writing.  I have done my "Power of the Pen" talk in conjunction with working at a Trade Show when they have a centre stage and they need Speakers.  Not sure what you need exactly in relation to 'samples of writing'.
Maximize Your Trade Show Effectiveness!
All Clients and Potential Buyers receive a personalized handwriting analysis on your letterhead; they write a customized sentence geared to your products, services or mission statement.
We explore concepts relating to the life of brain cells, the idea of transitory brain connections, the ageing brain and the idea of brain re-programming.  We investigate tactics that may be utilized by leveraging this information and impacting performance.
Dr. John Crawford explains the neuroscientific principles that may be utilized to improve personal effectiveness, performance and team strength by maximizing brain health.  A unique group activity will demonstrate the principles in real time.  The workshop portion will appeal to both the analytical and creative traits that may be found within each of us.
After the engaging workshop  portion of the presentation you will:
Understand "brain plasticity" – specifically neuroplasticity
Identify factors which that contribute to increased brain productivity
Recognize how creativity and cognitive change relates to improved brain function and impacts individuals and their performance.
Discover practical ideas to apply personally and professionally
"Elaine certainly helped increase attendance to our booth and also generated a lot of attention. People lining up to speak with her enhanced our opportunity to speak with the show participants."
"Elaine's presence helps attract attendees to the booth for longer periods of time. Elaine's idea to use Marriott letterhead and to customize a sentence geared to our hotel for the analysis gave people a personalized, special 'gift' to take away with them."
"Elaine's presence generated interest and provided an additional reason for attendees to be drawn into our booth. People came to our booth and, once there, Elaine's presence drew them in and made a valuable, lasting impression."
"Elaine helped attract people to our booth. She is so well recognized that attendees would come back and visit the booth again to wait for their handwriting analysis, providing another chance for follow-up."
"Elaine's presence created more traffic at our booth than anyone else's booth at the conference and as a result I could talk to more people and generate more leads than if she hadn't been there."
"When inviting Elaine to do analyses at our booth, I'm searching for a draw for people to come, stay and talk to us for a few minutes. Elaine fulfills that purpose because people get an immediate 'return on their investment'. People will line up which gives us 5-10 minutes to talk to them. In addition, it gives attendees something on Green Shield's letterhead to take away with them and talk about. An important purpose of having a booth is to gain recognition for Green Shield and to help the attendees think of me and of my services. Anything I can give them that is a reminder of the company achieves that purpose; having Elaine at the booth reinforces that desire. Even if they don't stop, they look to see what it's all about; these people are the ones who come back and say, "I hear you have…" and stay to network."
"After the first morning of the conference, Elaine was the talk of the exhibits, which attracted more delegates to our booth, allowing us the opportunity to engage additional customers in business discussions."
"On behalf of Disaster Kleenup Services, I would like to thank you very much for spending the day with us at the OIAA Trade Show, and entertaining the crowd. We had fantastic feedback and really loved working with you; we look forward to working with you soon!"
"Wanted to tell you just how great everything went with you at our booth at the Promotional Product Professionals of Canada Trade Show. You were the real hit of the show, for sure. We received nothing but positive feedback from our customers and I noticed the buzz that was building about you over all 3 days! I will be talking to our team about some other shows we're doing this spring and I know they'll be very interested in hearing about the great customer engagement tool that is the Handwriting Analysis, one that is perfectly suited to our Post-it brand products. Hope to work with you again soon!"
"Well—let me just tell you: The feedback from the Trade Show has been awesome. The feedback from YOUR services have been incredible and beyond! Thank YOU very much for being a apart of our trade show. Once again, you were a hit and you should know how amazing you are at what you do. Thank you for sending out the e-mails. I am sure the sales reps' customers appreciate you following up! We look forward to having you a part of the show next time!"
"You had everyone on the team 'on the floor' rolling with laughter—everyone had such a good time!" 
"It was a non-stop hour of fun and, combined with Elaine's charm and wit; indeed a delightful stress reliever for our team. We just loved Elaine!"
"First, let me say a big "THANK YOU!" for making our team event memorable and fun. I knew I was hiring a certified graphologist. I hadn't realized that I would be getting a certified graphologist, an exceptional keynote speaker; a seasoned entertainer; an accomplished comedienne, the perfect ice-breaker for a diverse group. The group has not stopped talking about your presentation and word is spreading."
"You captivated us with your insight and kept us smiling throughout with your many humorous remarks. Everyone attending the presentation felt they learned something about themselves and about their fellow team members. We all wear our masks, but your analysis allowed us to peer beneath the cover and see the real person, not just the one presented to us. As a speaker, you make your audience comfortable while your material remains fascinating and entertaining."
"Elaine Charal You Rock! Thanks so much for your dynamic, funny and informative keynote that had everyone from front line administrative staff to snow-plow operators, to road crew workers to managers and directors all in stitches. You certainly reached a broad audience with that one! It was great to see those big burly guys all come to you afterwards to have their handwriting analysed. Everyone who you touched that day left feeling a little more confident and feeling good about themselves. The people I spoke with all wondered how you could be so accurate!"
Request a Call Back
Whether you're looking for coaching, workshops, or keynote speaking, we can help! Get started by leaving your contact information below.