Maggie Cassella has always been a talker. It is a trait born out of necessity really. The youngest in an Italian family of six with three older brothers, it was pretty much talk or be talked over.
So it was no surprise then that Maggie would make her living talking.  First on a short stint as a private school teacher, then on a longer stint as a lawyer, and finally, for the last 28 years, as a current events commentator, talk show host, talking head, and public speaker.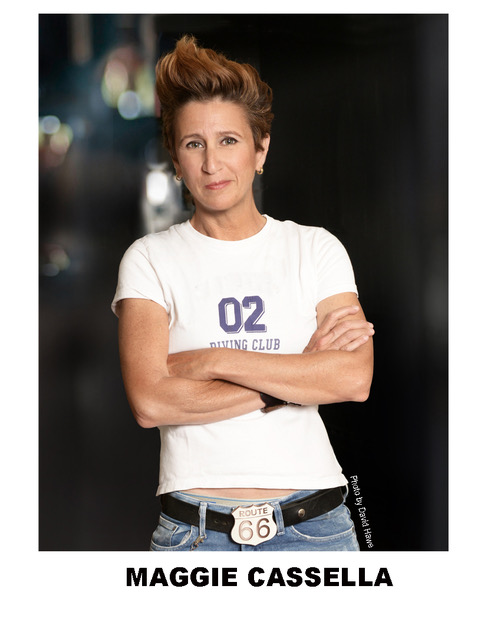 About
Maggie honed her speaking skills early on when she stood before classrooms of curious kids, and then as a lawyer, appearing before countless diverse groups at places like Bell Laboratories in New Jersey, a national legal conference in Los Angeles, and on TV talk shows from Geraldo, to Roseanne, to Bryant Gumbel Sports.
Upon moving to Toronto, Maggie became a highly demanded TV commentator.  Debating the likes of everyone from members of Parliament to presidential candidates in a tone that was smart and passionate with the right tinge of tongue firmly planted in cheek.  She's appeared on every major Canadian network and countless minor ones as well as having been featured on CNN right after the election of Barack Obama.
Eventually, Maggie landed a full time job in Canada as one of the original on-air talents on STAR!, she parlayed that job into her own talk show called Because I Said So™.
Maggie's live appearances and speeches in Canada have included the Heritage Fundraising Dinner (4,000 in attendance including the Premier), a gathering on women's literacy (at the AGO), a motivational luncheon for women with disabilities (at the ROM), and welcoming audiences and conducting one on one "intimate interviews" for the Women's Speakers Series at Roy Thompson Hall.
Given a topic or parameters on which to speak, Maggie's story telling abilities allow her to engage the crowd with illustrative material while getting the point across in a manner that won't have the audience reaching for Candy Crush for a distraction.
Keynote
Facing your fear of change
Starting over
Stories from an X Lawyer
LGBTQ
Request a Call Back
Whether you're looking for coaching, workshops, or keynote speaking, we can help! Get started by leaving your contact information below.